WELCOME to my practice,
My name is Rachel Low, I am a registered homeopath based in Hebden Bridge, West Yorkshire
I CAN OFFER YOU
Homeopathy – in the classical tradition – for adults, children and babies

Herbal tinctures, as an adjunct to the main homeopathic treatment

Bach Flower Remedies and the Australian Bush Flower Essences

Homeopathy for Childbirth and Post Natal Support (phone and online service)

Homeopathic advice for travellers

Homeopathic education

Nutritional advice

Counselling
---
Homeopathy is a system of natural medicine, founded on solid principles, which has existed for over 200 years. The Law of Similars is the guiding principle of Homeopathy. It states that those symptoms a substance can cause, it can also cure. Hippocrates, the most celebrated physician of Ancient Greece, and known as the Father of Medicine, was probably the first to announce the Law of Similars, over two thousand years ago.

Homeopathic remedies, which come from plant, mineral and animal sources, act by stimulating the natural healing mechanisms of the body. They do not cause harmful side-effects.

It is the person who is treated, not the disease. With its emphasis on treating the whole person, physically and emotionally, we get to the root of the problem. Physical health, emotional wellbeing and greater overall wellbeing results. Homeopathy is a positive, life-affirming system of medicine.

Homeopathy is suitable for people of all ages with all kinds of illness, acute and long-term, both physical, emotional and behavioural. Homeopathy speeds recovery after accidents and injuries, it assists women in pregnancy and childbirth, newborn infants, and is ideal for young people through their childhood and teen years, helping to establish good health for life.

For more about the various uses of homeopathic medicine click here and please go to the Links section to connect with the Alliance of Registered Homeopaths, Helios Pharmacy, and the "Homœopathy: Medicine for the 21st Century" website.
---
I have been practising Homeopathy for 23 years. I enjoy working with people of all ages, and find my work really rewarding. It was after the birth of my son that, like all parents, I needed to make decisions about his healthcare, and soon discovered how effective Homeopathy can be. After studying for 4 years at the College of Classical Homœopathy in Devon, I returned to Yorkshire in 1989 to start my practice. I am a member of the Alliance of Registered Homeopaths, an independent association for professional homeopaths, and I continue to study with world-renowned homeopaths.
click here to return to the top of the page
---
We discuss your symptoms in detail, your medical history and family medical history, your approach to life, any stresses past and present which may have contributed to this illness, your reactions to the environment, your diet and lifestyle. I allow 2 hours for the first appointment and 1 hour for subsequent appointments.
---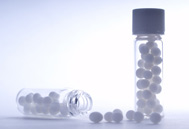 The remedies come from the natural world, from plant, mineral and animal substances, and are prepared at specialized homeopathic pharmacies in various dilutions, or potencies. Being so dilute, very little of the original substance is needed.
These liquid potencies are then used to medicate sucrose pillules, which are easy and pleasant to take, or the remedy may be further diluted in water. They contain no synthetic chemicals and have no side-effects.
---
Q. What sorts of illnesses can homeopathy help with?
A. Everyone can benefit from Homeopathy. Over my years in practice, I find that people with the following diagnoses most commonly seek treatment:
Physical symptoms

Recurrent infections
Migraine
Asthma
Skin conditions
Allergies
Digestive problems and IBS
Menstrual problems

Pregnancy-related conditions
Infertility
Menopause
Joint problems and arthritis
Accidents and injuries
Post-operative recovery
Emotional distress
Anxiety and depression, stress, fears, panic attacks, the effects of grief and bereavement
Insomnia
Emotional distress and behavioural difficulties in children
Addiction
Also,
Homeopathy can help people who are experiencing the side-effects of conventional cancer treatments, chemo and radiotherapy.
In degenerative illness, Homeopathy offers palliative care to improve quality of life.
click here to return to the top of the page
Q. How often will I need to come for treatment?
A. Usually I recommend that you attend monthly for 3 months, then as needed. For long-term complaints, you would benefit from treatment every 2-3 months for a year or more, then just occasionally (maybe once or twice a year) to keep up your vitality.
Q. Can I continue to take conventional medicine alongside homeopathic treatment?
A. Yes. After a while you may be able to wean off the conventional medication.
Q. Is there proof that homeopathy really helps, other than through the placebo effect?
A. Everyone who uses homeopathy appropriately will tell you that homeopathy definitely helps. There is research to show that it is effective, but the randomly controlled trials used in conventional medicine do not suit the homeopathic model, because the remedy is chosen according to the person's whole picture of symptoms, emotional and physical: it is an individualised prescription. Babies respond well, pets and farm animals too.
The Alliance of Registered Homeopaths website at www.a-r-h.org and Helios Homoeopathic Pharmacy are useful sources of information if you would like to know more.
click here to return to the top of the page